Cecilie og Jacob: "Denne kampagne har været en overvældende stor succes. Gennemført på 3 dage, med 8 frivillige og med 257 kvinder som deltagere.
Læs den udførlige rapport – på engelsk – nedenfor.
"Menstruation Hygiene Awareness Campaign"
Belhi Health Clinic – January 26th to 28th 2019
– by Cecilie Jespersen and Jacob Bølling Hansen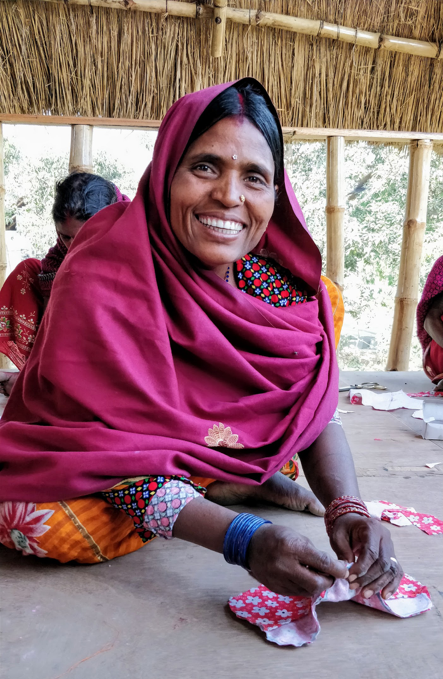 Background
Women throughout the world faces challenges during their monthly period. Millions of women in Nepal are confronted with taboos and life-restrictions that limit their mobility and self esteem during the period and negatively impact their daily activities.
Some places in Nepal, an old tradition known as Chaupadi forces women to sleep in huts during the menstruation, away from the rest of the family. This regularly causes deaths due to hypothermia and intoxication from smoke inhalation. Even though this particular tradition is not practised in Dhanusha District other restrictions are put in place. Often, the woman is not allowed to enter the kitchen during her period, likewise she is not allowed to neither make nor touch pickles, or to touching senior family members. She has traditionally been restricted from participating in entering temples and worshipping the gods. Originally, the restrictions arose because it was considered impure and unhygienic to be menstruating. However, with access to modern sanitation these restrictions lose relevance.
Managing the menstrual blood hygienically without access to modern sanitary products is another challenge to women living in villages. In many cases a piece of cloth is used which has to be washed frequently. For young school girls limited access to toilets and water, and lack of privacy and gener separate facilities may make personal care difficult and embarrassing during periods, which could result in lower rates of school attendance on performance.
Policy makers in Nepal often point to school attendance to being one of the most important menstrual-related issues. It has been estimated that girls miss up to 4 days of school every 4 weeks resulting in 10 – 20 % of their school days due to periods (World Bank 2005). In contrast, Oster and Thornton in 2009 found that girls miss on average only 1.3 days of school over the course of a year due to their period.
Historically there has been a gender gap in the rate of progression to secondary school in Nepal. In Province 2 (which includes Dhanusha), 49 percent of boys enroll in secondary school as opposed to 42 percent of girls (Nepal Demographic and Health Survey 2016).
Our approach to this problem was to aim at empowering the village women through education and positive thinking about menstruation and not be held back from education and work opportunities.
Aims of the campaign
1. To target both girls at school age and grown up women in the villages in Hansapur Municipality by covering all
– 7 schools in the area
– 8 Lok Pathsala groups (women's groups)
2. To teach menstrual cycle as well as methods to manage the period
3. To address taboos related to menstruation
4. To give the women the knowledge and know how to handle their menstruation in the future in the most low-cost option.
Padbank
A partnership with the Kathmandu-based organisation Padbank was established and 8 volunteers from the organisation joined the campaign. The volunteers grew up in villages in Terai Region in the districts of Mahottari, Siraha and Saptari themselves. Therefore, they all speak both Maithili and Nepali fluently and know and understand the village culture and society norms. They now live and study in Kathmandu where they are engaged in different studies such as law, sociology, nursing, agriculture and software engineering.
The volunteers arr experienced in conducting trainings on menstrual physiology and in teaching how to make homemade pads, and do so all over Terai whenever they can take the time to do it.
Methods
The campaign was held for 3 consecutive days which was the maximum possible time for the volunteers to take a leave from their studies and jobs.
Two groups were targeted:
1. School girls at class 9 and 10 (age 13-15) from Belhi School, Nikal School and Jhatiyahi school.
2. Women at Lok pathshala from the villages of Belhi, Tola, Malhania, Laliya and Nikal
The sessions were held in parallel. The volunteers split up in groups of 4 covering a session each.
All schools were visited 3 days prior to the campaign to ensure the size of the classes and availability of classrooms.
It was decided to target the oldest girls at the schools for this campaign because they often drop out of school around the age of 15-16 where they often get married .
The campaign was carried out on weekendays Saturday, Sunday and Monday which were the only days manageable for the volunteers. Saturday is the day off for schools, and the girls were called in extraordinarily.
The sessions were divided into 3 main parts:
1. Collection or questionnaires
2. Educational part:
a. Puberty and female reproductive anatomy
b. Menstrual physiology, menstrual cycle
c. Menstrual management methods and Menstrual hygiene
d. Dysmenorrhoea, handling cramps
e. Nutrition during menstruation
f. Menstrual taboos
3. Workshop, hands on training in making homemade reusable pads.
Design
It was planned to educate women in Menstrual Hygiene Management. Two phases were planned:
1. Conduction of training and collection of baseline data on menstrual habits and activity restrictions.
2. After 2 months to collect follow up data for participants who underwent training. A short questionnaire on methods used for menstruation management and activity restrictions.
The following report only concerns part 1: Preliminary findings.
Data collection
An anonymous questionnaire was developed by the Danish delegation prior to the campaign. It included questions on the participants age, age at menarche, ways of managing the period, activities the participant does not take part in during menstruation and self esteem. Two versions of the questionnaire was made: one for school girls and one for the grown up women in Lok Pathsala. See appendix for the questionnaires.
Feedback from two Danish research professionals was obtained and revisions were made accordingly.
The questionnaire was translated from English to Mathili by the Nepali campaign leader. Hence, the quality of the translation could not be evaluated by the Danish delegation.
No pilot testing was done.
In schools, the students filled out the questionnaire individually with volunteers available to assist in answering questions.
In Lok Pathsala, the women were not able to fill in the questionnaires due to illiteracy. Instead, the volunteers asked each woman the questions and filled in the questionnaire on her behalf. On day 1 the questionnaires were filled out after the workshop had ended. On day 2 and 3 it was done as the first thing in the day.
Results
A total of 257 women were reached in the campaign; 137 women in Lok Pathsala and 120 girls in schools. In total 96 % of the participants filled in the questionnaire.
Whenever answers were given in Maithili a member of the Nepali team assisted in translating to English.
In many cases the questionnaires were not filled in consistently which caused some difficulty in interpreting the answers. Especially the question concerning which activities the participant did nottake part in caused some confusion. See example:
In these cases the questionnaire was discussed in a group of who agreed on the best interpretation.
Age distribution of participants
The ages of Lok Pathsala women are quite evenly distributed with the mean age being 35 years.
The ages of the school girls reflect that they are mostly from class 9 and 10. The mean age is 15 years.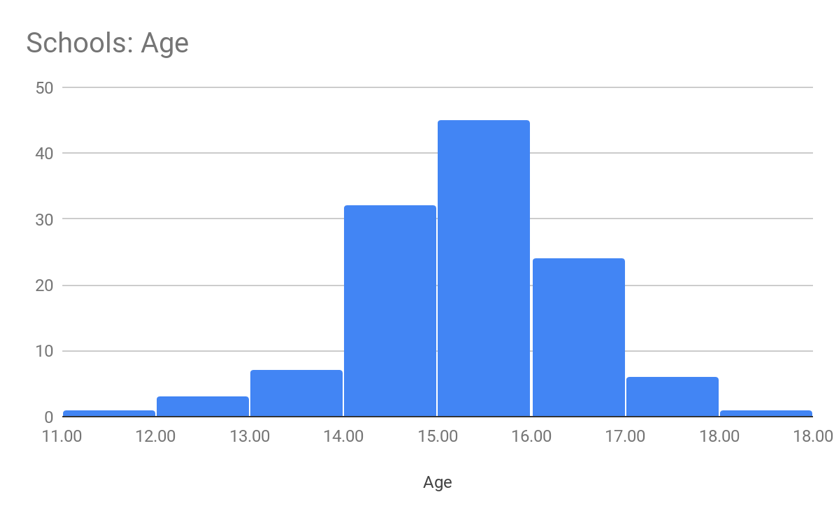 Age at menarche
All school girls reported to have had menstrual debut. In the group of Lok Pathsala none of the women put "I don't recall":
I total 4 % of all participants reported to have undergone menopause or having had a hysterectomy.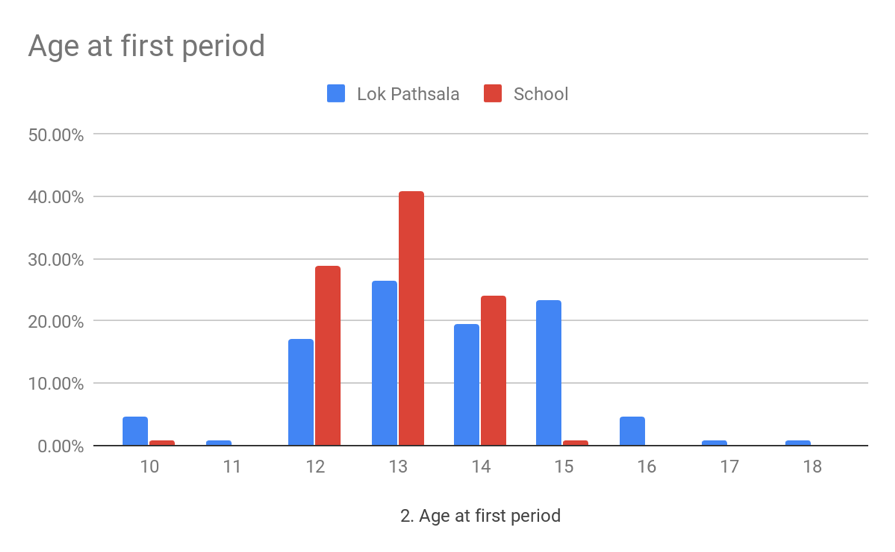 Menstrual education
The following graph shows that almost all girls in schools today have received menstrual education. However, the older women tend not to have received formalised education.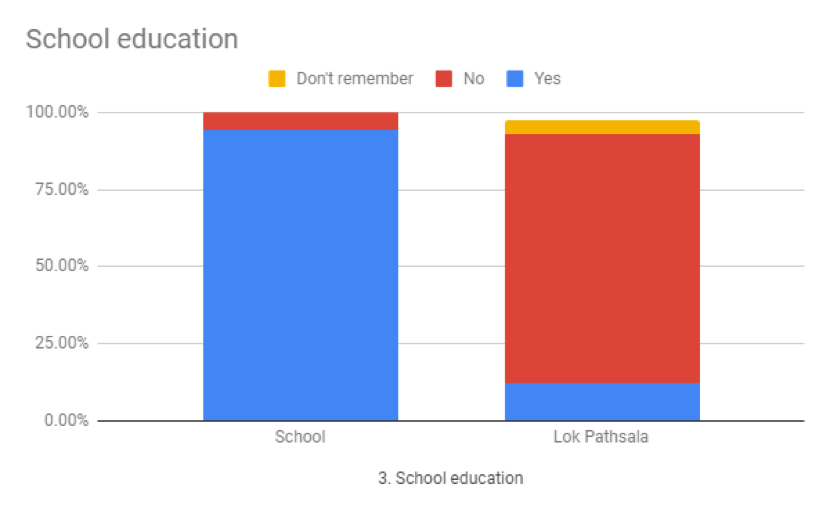 When asked about having talked with anyone outside school about menstruation prior to their menarche the women of both Lok Pathsala and school girls mainly reported to have talked with family members about the topic. However, 40 % of the women at Lok Pathsala reported to never have talked with anyone about menstruation before they had their first period.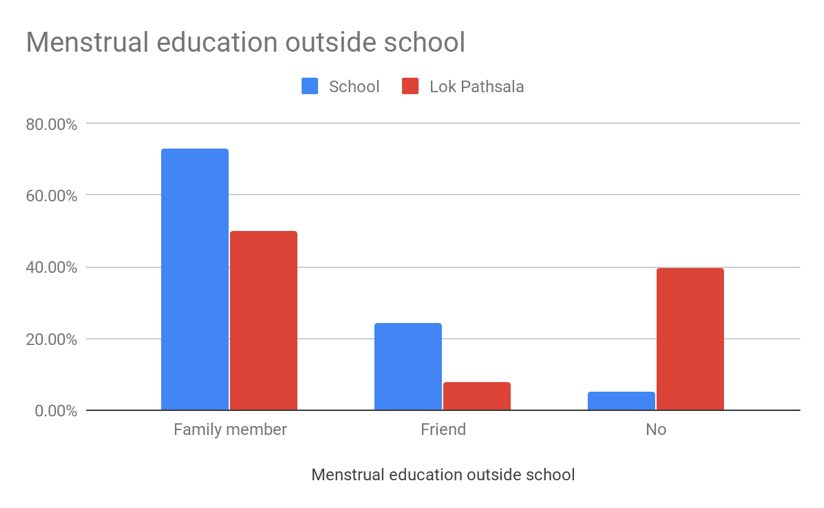 The following graph shows with whom the participants discuss their periods. The most common reply being female relatives. Amongst the group of "Other" was put mother in law and sister in law. 16 % of the women in Lok Pathsala reported not to talk with anyone about it.
Missed school due to periods
81 % report not to miss school at all due to menstruation.
In total 18 % of the girls reported to miss school 1 or more days/month. Using the reported number of days missed per month it is calculated that This corresponds to almost 34 school days in average per year for the girls reporting to miss school due to menstruation. The answers given vary from between 12 to 60 days of absenteeism annually.
Of those who miss school 93 % put pain as a reason, and 10 % put blood management as the reason.
Menstruation management
In the Lok pathshala group 86 % of the women reported to use a reusable cloth as type of menstruation management and only 8 % used single use pad.
In total 53 % of the girls in the school reported to use single use pads and 24 % used reusable cloth.
No one reported to use tampon or menstrual cup.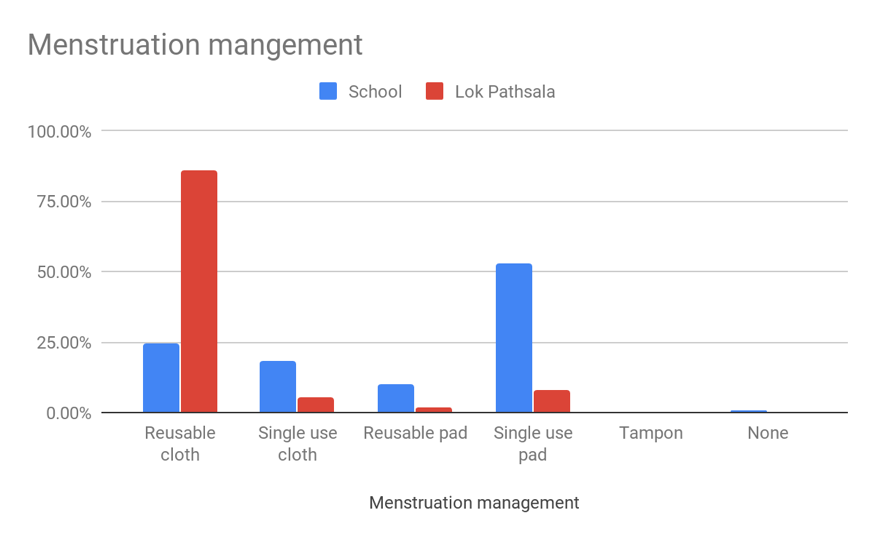 Taboos
The graph below shows that 87 % of school girls and 78 % of the Lok Pathsala women report not to take part in religious activities including puja.
50 % of the Lok Pathsala women and 21 % of the school girls reported not to touch pickles during their period.
The most frequently mentioned "Other" activity that the women did not take part in while menstruating was touching cow dung.
Self esteem
More than 60 % of the Lok Pathsala women reported that they don't worry about having their periods. However, 14 % report to be afraid something is wrong with their body.
In the group of school girls > 40 % reported that they don't worry about their period and feel proud of their bodies.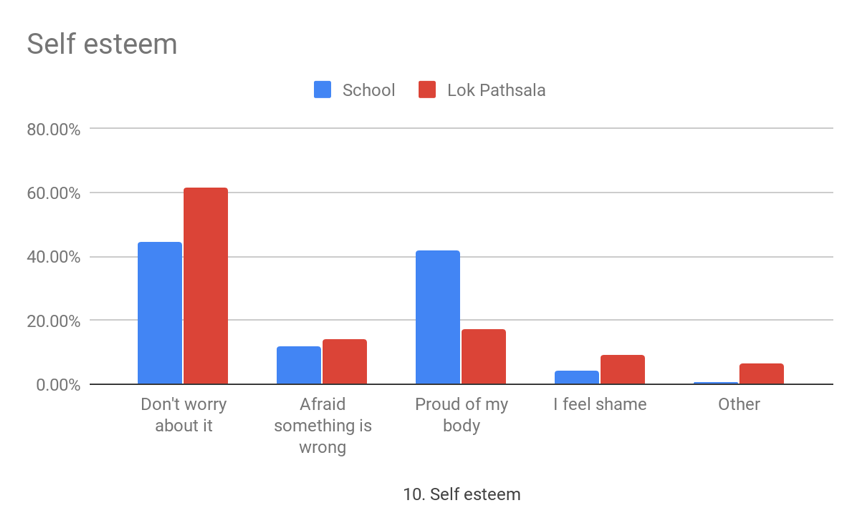 Discussion
In a 3-day campaign 257 women and girls were reached and educated in Menstrual Hygiene Management.
The spirits were high, the energy and drive was fantastic. Shyness was put away and all participants managed to make their own reusable pad.
Although there are still a load of girls and women to target it can be concluded overall that the campaign was a huge success.
Participants
The number of participants varied a lot from day to day. Especially there was low attendance rate at the school on the Saturday, which might be explained by the fact that it is normally the day off for schools. In the future it would wise to either avoid teaching on Saturdays or preparing the children better for coming on their day off.

A peak on the ages of 25, 30, 35 etc. was observed amongst the participants of the Lok Pathsala group (see graph below).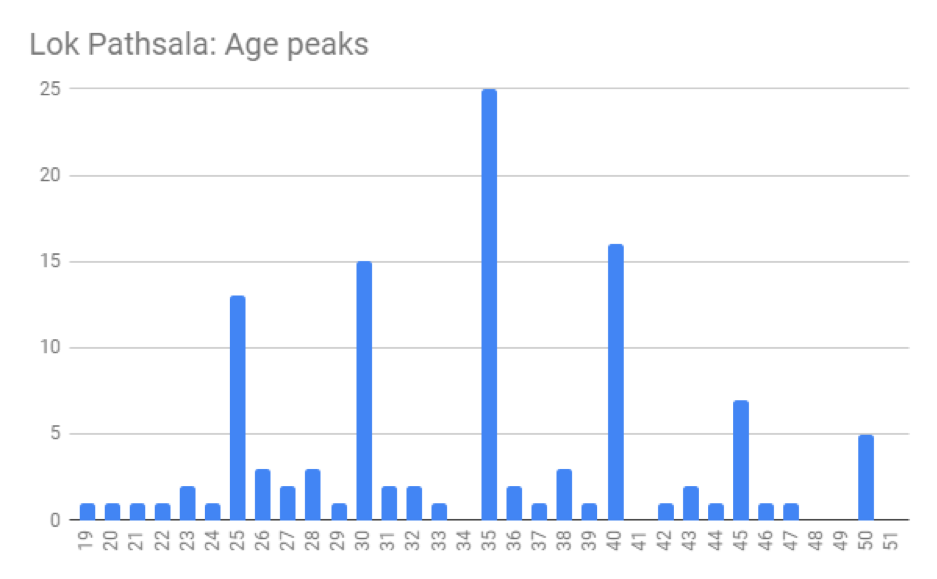 The most probable explanation for this is that the women do not know their exact age and tend to give an estimated number instead.
In general there is a risk of recall bias in the Lok Pathsala group with regards to the question of age at menarche and whether or not they received education on menstrual health in school. The option "I don't recall" was rarely used.
A volunteer who assisted in filling out the questionnaire for a woman quoted her saying:
"I don't remember when I had my first period. How old were you? Can't you just put the same age for me?"
As described previously, there was some confusion on the interpretation of the questionnaires. This raises the question of how reliable the data is altogether.
There was a problem with negative-formulated questions. Some of this might have been possible to avoid if a kick-off meeting had been held, explaining the volunteers in depth how to instruct the participants in filling out the questionnaire. Also, in the future it would be wise to run a pilot test and to ensure the quality of the maithili translation.
Many of the women printed their names on the questionnaire, even though it was meant to be anonymous. This raises the concern that the participants did not give honest answers in fear of "being caught in doing wrong" such as admitting to stay away from school during their period.

It was also observed that when school girls tended to give the same answers to the questions as the girls sitting next to her. Thus, the responses can not all be considered individual.
School attendance
In this campaign 81 % of the school girls report not to miss school at all due to their menstruation. However, we find that a smaller group of girls report loosing up to as much as up to 60 school days annually with an average loss of days of 34 days.
This points to a small problem on a big scale but a big problem for a smaller group of children.
However, these data should be interpreted bearing the methodological limitations in mind.

18 % of the girls reported to miss at least one day from school per month due to periods. The primary reason to miss school was due to cramps.
We solely collected self-reported attendance. In order to make a more accurate estimate of these figures a cooperation with the schools to collect attendance registration from their hand would be the way to draw a more clear picture.

Our findings point to the fact that not only access to methods for menstruation management is important, but also thorough education in how to handle cramps in order to reduce the days girls miss school due to periods.
Management methods, Sanitary facilities and Waste disposal
We found that the most commonly used method for menstruation management among school girls was single use pads.
The schools have gender separate toilets but often without locks on the doors. Water pumps are available but there is no system for littering. Most often the girls instead throw the pads out of the window or leave it in front of the toilets.

Access to basic facilities that provide privacy and access to disposal is key for the women to be able to manage their menstruation in a hygienic way.
Future campaigns could require the schools provide these basic sanitary facilities.

Until better systems for safe waste disposal is in place it should be a serious consideration to seek to introduce methods for menstruation management that are more environmentally friendly.
The women were taught to make reusable pads. It is estimated that these will last for up to 6 months.
An even more environmentally sustainable option would be to introduce menstrual cups.
There are certain cultural and sanitary steps that need to be in place for this to be a possibility. Currently steps are being taken to prepare to village women for this.
Target age group
Menstrual education was introduced in the curriculum at government schools in 2008 for XX class (year group).
However, the quality of this education does not match the level provided during our campaign. 94 % of school girls reported to have received basic education on menstruation, in contrast to only 13 % of the Lok Pathsala women.
In the Lok Pathsala group several women reported to have been in fear of being seriously ill when they had their first period because they had never heard about monthly periods prior to their own menarche.
This emphasises the need to teach women at all ages including premenstrual age children on menstrual health.
Male involvement
This campaign targeted only girls and women.
Male involvement in Menstrual Hygiene Management and Female Sexual and Reproductive Health is a recognised strategy throughout the world since it gives more positive results. Involving men at different age groups and societal status can increase the male engagement and participation in female activities.
In future campaigns considering male inclusion in projects aimed for improving Menstrual Hygiene Management could be a focus.
Future campaigns: Capacity Building
During this campaign a total of 257 women were trained over the cause of 6 sessions. It is estimated that another 20 sessions are needed in order to cover all Lok Pathsala groups and school girls from age 11 to 16 at the 7 schools.

Since this is a big task and since the future demand will be continuous, the strategy on covering this topic should be considered in thoroughly.
In order not to depend on volunteers from Padbank for all future sessions there is a need to set up a system for sustainable conduction of campaigns within the community.
One model could be to educate a local team of trainers in a Training of Trainers programme. Local trainers would also serve as role models to other village women, inspiring to education.
Conclusion
This campaign has overall been a great success. 3 days, 8 volunteers, 257 women reached.

The overall recommendations for future campaigns based on these findings are:
– Target group:
Girls from pre- to postmenstrual age
Considering male inclusion in projects aimed for improving Menstrual Hygiene Management
Avoid teaching on Saturdays or preparing the children better for coming on their day off.
– Capacity building in the community:
To establish a team of local women to undertake the future sessions on Menstrual Hygiene Management
– Sanitation:
To require the schools to provide basic sanitary and waste disposal facilities
To find methods for menstruation management that requires less waste disposal until systems for waste disposal is in place
– Cramps:
Emphasis on education in how to handle cramps in order to reduce the days girls miss school due to periods.
– Data collection:
Cooperation with the schools to collect attendance registration to get a more clear picture on how many days the girls miss.
To run a pilot test on questionnaires.